Products Catalogue
Quality Molded Plastics Ltd. manactures a variety of containers and containment products.
Tanks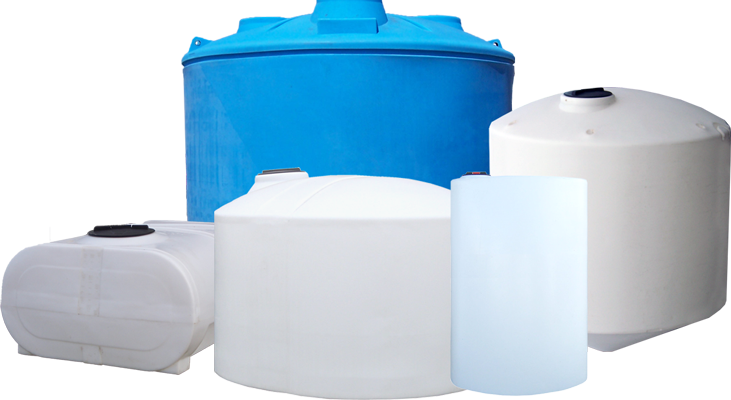 QMP manufactures a wide range of vertical and horizontal tanks with capacities ranging from 4 gallons (15 liters) to 10,000 US gallons (38,900 liters) in several different configurations, including flat bottom, cone, and double wall.
Oval Vertical Storage Tanks
Horizontal Leg Tanks and Transport Tanks
Low Profile Storage Tanks
Large Round Vertical Storage Tanks
Cone Bottom Storage Tanks
[45°]

[45°]

[45°]

[45°]

[30°]

[30°]

[30°]

[30°]

[30°]

[30°]

[30°]

[30°]

[15°]

[15°]

[15°]

[15°]

[15°]

[10°]

Click Here to see MSRP in QMP pricelist.
Click Here to See more details about Cone Bottom Tanks.

Available in dual-walled configurations
15° Cone Bottom Tanks have dog-house style sumps
Suitable for Agricultural/Industrial Water and Chemical Storage
Volumes from 14-4800 US Gallons
Made with Food Grade Polyethylene. BPA Free.
Contact Factory for Availability in custom colors
Made in Canada
Water Conditioning Brine Tanks
Assorted Fittings for Tanks
are suitable for tanks which can allow for a fitting to pass into the lid by lid/opening. A threaded bulkhead is fitted from the inside of the tank and sealed with a gasket and nut from the outside of the tank. Sizes ranging from 1/2″ – 4″ NPT (National Pipe Thread)
are heavy duty bulkheads which can be installed to a tank more securely than threaded bulkheads. These bulkheads are suitable for application where a heavy duty bulkhead is required. Available in 2″ and 3″ NPT sizes.
come in vented or non-vented options, sized from 5″-22″ diameter. The lid comes in two parts: A male threaded lid as well as a female threaded ring. The lid is installed in the tank by cutting out a sized hole for the threaded ring, and screwing the ring into the tank's hole. The threaded lid can now be threaded onto the ring for easy installation and removal.
are available for tanks which already have male threaded flanges molded. These are meant as a replacement for products which have the same thread as the caps.
are suitable for tanks which do not have any openings or lids big enough to feed a bulkhead through. Spin weld fittings are not as durable as bulkhead or bolted bulkhead fittings, so are typically not recommended. Sizes are available from 1/4″ – 3″ NPT.

Parts Catalogue
Quality Molded Plastics Ltd. manufactures a substantial line of tanks and containment products for resale through authorized retailers.
Quality Molded Plastics Ltd. has placed significant importance on product design and engineering. Quality Molded Plastics Ltd. has completely integrated engineering, design, lean manufacturing and mold fabrication services, providing our customers efficient and timely delivery of products and parts. Our mission is to develop and manufacture high quality, better engineered, innovative, rotationally molded products and components.